If you live off-grid, you probably live on solar energy. You still need backup power, though, so perhaps consider a generator.
Many individuals who live off-grid get their power from solar panels, which use the sun as a power source to charge rechargeable batteries.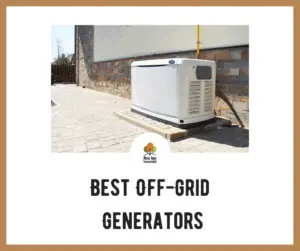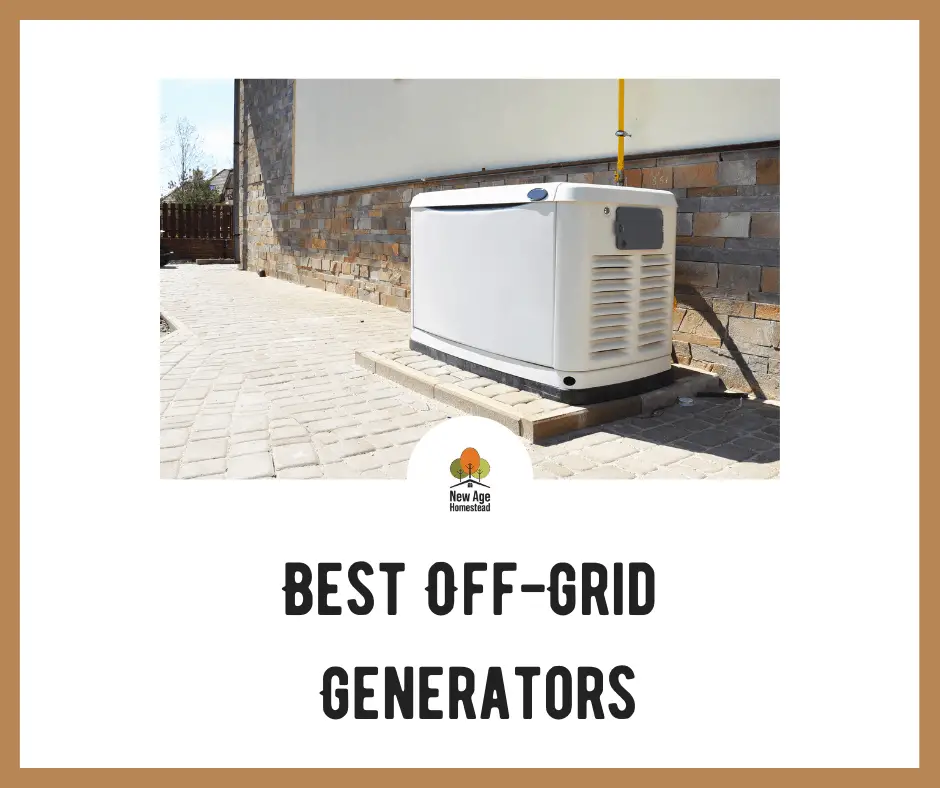 Solar panels are great, and they've been said to be the cheapest way to source electricity, more so than any other way. 
You still need backup power, though. Plus, a generator has a ton of other uses, which will be named in this article. 
There are also a few different generators, some being powered by various fuels, and some that fit specific uses better than others. 
In this article, I will cover ten generators—three different types for gas, propane, and diesel, plus an electric power bank. Let's jump into it.
Why You Need An Off-Grid Generator 
Regular Usage 
If you live off-grid, yet do not see a reason for needing a solar panel, then perhaps a generator is just what you need.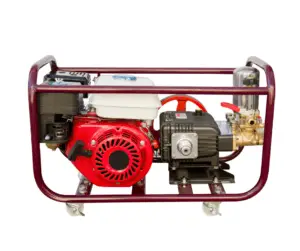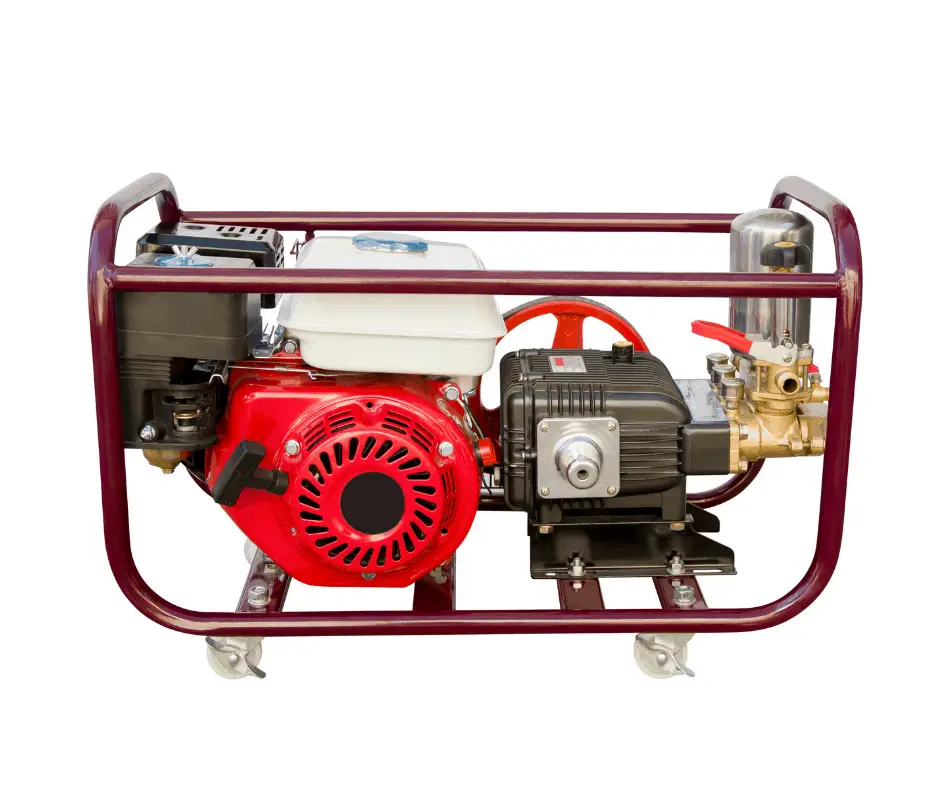 Not everyone living off-grid wants every possible device they can get their hands on. Many will get their heat from wood, their entertainment from farming, and cook their food via fire. 
This means that the only power usage they have is for power tools, small devices like smartphones, or minor lighting inside the home. 
This is where a generator would fit in the picture perfectly, as they can be powered for any amount of time, be it ten minutes or a week straight.
Winter Emergencies 
When I lived off-grid, I commonly used a wood burning heater to keep my home warm during the winter. 
However, wood-burning heaters are not perfect. The flame can go out for any reason, and if the situation isn't optimal, it may prove challenging to relight. 
Plus, perhaps you're low on firewood due to excessive snowfall or rain, causing the wood to be soaked. 
This is where a generator would prove very useful, as it can power an electric heater to temporarily keep the home warm until you can keep the house warmby using a wood burning stove.
SHTF Survival 
If you haven't heard of this term, check here for a more detailed review. However, if the SHTF, electricity may go with it. 
Solar panels would have a high likelihood of being damaged if an EMP were to be detonated nearby, which could be your only source of power. 
Generators, while they're still susceptible to damage by EMP, have less of a chance of being permanently damaged. Therefore, I'd recommend anyone to have a generator just in case SHTF. 
Perhaps wrap it in foil to help protect it. If SHTF, it could be from a hurricane, tornado, or other disasters, not just the apocalypse.
---
Top 10 Off-Grid Generators
Best Off-Grid Gasoline Generators
Westinghouse iGen4500
I'm betting that this one will be one of the popular generators due to its small size yet powerful electricity generating abilities.
It boasts capabilities of reaching 4500 watts, which is plenty for everyday tasks and projects. If you live on a homestead, this would be an excellent buy.
It's super lightweight, so you can easily transport it from one area to the next. Plus, you can get a full 24 hours of usage at full power with just 3 gallons of gas.
Westinghouse is known for its reliability, so overall, this is probably the best generator, all things considered, excluding the power output as that is a personal preference.
Honda EU3000IS
This list wouldn't be a list worth reading without a Honda featured. Honda needs no introduction, as they're known for their reliability and user-friendly equipment.
This generator provides between 2800-3000 watts, which is excellent for most applications around the home. 
My favorite aspect is that it's super quiet, and I mean super. This is a common trait among Honda, so no surprise here.
It's not as fuel-efficient as the iGen4200, but it still gets a whopping 18 hours of run time at full power with just 5 gallons of gas.
Briggs & Stratton P3000
This is one of my favorites, simply because of its small structure. It can easily be moved around with on hand, making it extremely portable.
This generator is best used for minor applications but is powerful enough to provide a smaller RV, homestead, or practically any tool, floodlight, or heater.
It can get an impressive 10 hours of run time out of only 1.5 gallons due to an elegant feature – automatic idle control, which changes the idle depending on workload.
It features multiple AC outlets, an RV plug, and a USB plug, making it one of the best choices on this list. If you don't need a generator, this is worth a buy – just in case.
Best Off-Grid Propane Generators
DuroMax HP1200EH
If you're looking for a powerful generator that is powered by propane, this is going to be a great choice. 
It runs at 9500 watts, with the capability of reaching up to 12000, which is plenty for most applications. The build seems very sturdy, and DuroMax is known for its reliability. 
That's not all, though; this generator can also be powered by gasoline, making it the perfect option for those of you who may not have easy access to one fuel or the other. 
It also features air-filled tires, making transportation very easy. It also has an idle control, separate breakers, and a large 8.5-gallon fuel tank.
Pulsar G12KBN
This generator is great for those of you who need a generator for heavy tasks on the field, as it's plentiful in power yet very portable and lightweight, considering its medium-size structure. 
It has a few neat features, but my favorite is that it has an outlet for RV applications. 
This alone should prove its capabilities, but if that doesn't have you excited, then you'll like the push-button start. 
A rainy or snowy day isn't a great time to pull start a generator, that's for sure. This generator also features wheels, making it easy to transport around.
Firman H03652
While the other two propane generators are great for larger applications, this one is better suited for smaller applications, such as supplying power to power tools, floodlights, or workshops. 
It's still powerful enough to power a small home, though. I'd recommend this to anyone wanting a generator, but perhaps you don't need it for large projects.
A huge plus is its size; it's very lightweight, and the structure is considerably smaller than the previous two, making it perfect for easy portability around the property. 
This generator also features an RV outlet, which is a bold statement for its size; it's truly worth its weight in gold. 
Best Off-Grid Diesel Generators
Sportsman 7000
If you want to opt for a diesel generator, then the first option I'm going to recommend is the Sportsman 7000
This is an excellent all-around generator for most extensive uses, such as powering your home, RV, or workshop. It weighs roughly 300 pounds, so it's no featherweight; however, it does feature a set of wheels 
It has a large panel that, when opened, has everything underneath, including the breakers, fuel levels, and outlets.
It also features a remote start, which will undoubtedly prove useful. This is not suited for moving around a lot, though.
Generac 6864 XD5000E
If you're looking for a diesel generator that is more portable, then the Generac will likely fit the bill. This generator is very well priced, considering what it offers. 
This generator is great for smaller projects, such as workshops or powering a few household appliances. It can undoubtedly power a smaller home, but it'd push the generator to its limits. 
The frame is very solid, and the overall build remains premium. It features a panel on the side with most necessities, including outlets, breakers, and meters. 
This generator has a surprisingly long operating time, getting 32 hours at half load on a full tank, which honestly blows my mind.
Generac RD05034GDAE
This bad boy is by far the most powerful generator in this list and is best for purposes that require an immense amount of electricity. 
It's not for those on a budget, but whatever is thrown at it, it'll undoubtedly get the job done. 
Its max operating output is an outstanding 50000 watts – you read that right. This could nearly power a small factory.
The fuel tank is a large 62 gallons, managing to get 15 hours at full workload, or nearly double that at half workload, give or take a few. 
It should be no surprise that it's not easily transported, and it certainly isn't transportable solo.
---
Honorable Mention 
Jackery Portable Power Station 160 Battery Bank (Solar)
If there is one thing that I believe is critical that should be possessed by everyone, it's a solar battery bank. 
These have several uses but are best used for smaller applications, such as heaters, lighting, smartphones, and laptops, plus power tools, to name a few. 
The Jackery 160 is excellent for these exact purposes. It doesn't include a solar panel, but even after purchasing both the battery bank and solar panel together, the price is well justified. 
It may very well be the only source of electricity in the case of disaster, but it will also prove very useful as a backup. It's especially great for those of you on a budget.
---
Frequently Asked Questions
How Can I Store Fuel?
If you're going to be utilizing the generator for extended periods, then it'll inevitably become a huge hassle having to go back and forth to town for fuel fill-ups.
To avoid this, you may consider storing fuel. To store gasoline or diesel, you'll need to buy a tank and place it in an area away from potential damage from mowers, hail, etc.
For propane, you can use any propane storage you'd like; just make sure that it's also put away in an area that's safe from potential damage.
Aren't They Loud?
I recall the first time I used a generator, which was during Hurricane Katrina. This was more than a decade ago, so the equipment was not as efficient as today's.
When the eye hit me, I grew concerned that the generator would become flooded from the rain, which is when I noticed the sound, it was deafening, even 50 feet away from home.
Luckily, most generators now are required to meet specific regulations, leading to a much quieter exhaust. Plus, the actual engine can run at lower RPMs, leading to lower decibels.
How Much Fuel Do They Use?
This entirely depends on the generator and what types of fuel it uses, not to mention the generator's workload at a given time, as powering a light will use much less than a heater.
Most generators average out at 0.75 gallons per hour, but this is average and maybe much less, or much more, depending on several factors.
Typically, smaller generators require less fuel per hour because of the smaller CC size, even if it's pumping out the same output as a larger generator. 
---
Verdict
If you've been looking for a generator to add to your off-grid property, then I hope this top ten list has given you a few worthwhile options to choose from. 
I considered a few factors when creating this article. These factors included reliability, features, portability, size vs. power ratio, and fuel type, to name a few. 
The larger ones will have a more specific use, such as powering a building, but the smaller, more mobile generators are great for applications that require portability. 
If you do not need a generator, I'd still recommend picking up either of the gas generators or, at a minimum, the Jackery battery bank with the solar panel.