Off-grid battery banks are essential to have if you live on a homestead or off-grid property. After reading this, you'll know which is best for you.
If you've been contemplating an off-grid battery bank for your homestead, but you're not sure which one is best, this list will point you in the right direction.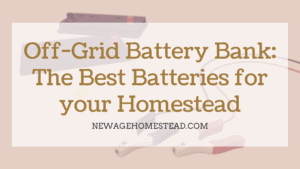 There are several options to choose from, so I've picked out a few that I believe offer the most for the dollar. 
The first type I've selected are portable battery banks, which are great if you don't plan to use electricity much or simply need them to be portable. 
The other kind is stationary, which is best used for powering an entire homestead, which can also be charged via solar panel. I've included various solar panels that can be paired with batteries.
I know from experience that some battery banks can fail due to poorly designed batteries, so I've taken steps to ensure the user experience has been met with those I've included here. 
Why You Need A Battery Bank
Your Homestead 
Homesteads are meant to be entirely off-grid, which means any electricity must be sourced from the property the homestead is on itself. 
Making the homestead off-grid can be done in various ways, but since this article covers battery banks solely, you may find one of them to be extremely useful for your homestead. 
The one in particular that will be best for a homestead is the WindyNation 200, which is reviewed here. This is powerful enough to power smaller sized homesteads. 
This way, there is no need to be connected via the grid, hence the point of a homestead: self sufficiency.
Various Tool & Electronics 
If you have any power tools such as a drill, nail gun, air compressor, or power washer, then battery banks could prove very useful for you. 
These tools may be needed away from the homestead, too far to run extension cords. 
This is where power banks come in handy because you can simply pick it up and use these tools wherever they're needed. Power banks are also useful for various kinds of electronics, like laptops, smartphones, and heaters. 
I've included some power banks that can be charged via a solar panel, just in case the battery bank is your only power source.
Backup Power
You can get power from a gas generator, solar panel, or by other means. These can fail, especially during intense storms that could pose damage. 
If you'd like to stay on the safe side, getting a battery bank is your best bet. This is particularly important to consider if the homestead is in a frigid climate.
If the primary power source failed during a massive snowstorm, for example, then the battery bank could be used to power the electric heater temporarily.
There are several other uses of a battery bank, though, such as powering household appliances, running floodlights for a nighttime project, and more.
---
Top 7 Off-Grid Battery Banks
1: Nexpow Portable Power Station
If I were to suggest only one battery bank to anyone living off-grid, it would be this one. More specifically, to use during times that the primary solar panel may not have much access to sunlight, which means you could need a backup battery bank. 
It's a perfect size, coming in at a huge 48,000 Mah. This isn't a massive battery compared to some others used for solar, but it'll charge any laptop multiple times over and power most heaters and power tools for quite a while. 
This battery bank stuck out to me because of the build, it's structurally strong, and it's a bit weighted, which means any cords you have attached to it won't pull it around, for example. 
You can adjust the voltage, too, and it even has USB ports if you need to charge your smartphone.
Pros:
 Adjustable Voltage
 48,000 Mah
 Strong Build
Cons:
 No Solar Included
 Large In Size
Purchase here
2: Station River 600
This battery bank is perfect for anyone who may not always have immediate access to electricity. It's lightweight considering the size of the battery, which has a whopping 288Wh capacity. 
Its standard output is 600 watts, but if the battery bank is switched into turbo mode, it'll push out triple those numbers hitting 1800 watts. 
It's more than powerful enough to power just about any household appliance, and it could handle just about any power tool plugged in.
This is great for any homestead, but it's still an excellent choice for other off-grid uses too.
It's certainly larger than a few others here, but it's not meant to be a small portable smartphone charger; it's a big boy that'll get the job done for a big task. 
Pros:
 Up To 1800 Watts
 Powerful Enough For Heaters
 288Wh
Cons:
 Standard Only 600 Watts
 Can't Power A Homestead
Purchase here
3: DBPower 800
I felt this was a necessary addition to this list because essentially everyone has some vehicle type: truck, car, ATV, or tractor. 
This battery bank can jump-start an engine, maxing out at 7.2L for gas and 5.5L for diesel, so it's usable for most engines. 
This is an essential item for homesteading for anyone off-grid, but in particular, anyone who lives out of town. 
That's not the only thing this battery bank can do, though. It's still a battery bank, so if you ever find one of your devices needing a charge, the DBPower 800 can quickly get it done. 
The build quality of this battery bank is right up there with the more expensive high-end brands, so there are no durability worries here.
Pros:
 Jump Start Capabilities
 800 Watts
 Great Build
Cons:
 Priced High
 Not Great For High Usage
Purchase here
4: Enginstar 300 Watt
This behemoth of a battery has a Mah size of 80,000. The Enginstar is made for durability, with outdoor use in mind. 
It has multiple types of power outlets, including two AC outlets and two USB outlets. It even has a USB type-c for those with the newer device chargers. 
Due to its sheer size, it can be used to power even the most electricity-consuming tools like stationary air-pumps, microwaves, refrigerators, and more. 
It has a digital screen, which displays the current battery level along with the voltages. The Enginstar 300 Watt is likely the closest you'll get to the larger portable battery banks with this capability.
Pros:
 80,000 Mah
 Small Package 
 AC Outlets
Cons:
Purchase here
5: WindyNation 200 Watt Solar Kit
This list wouldn't be useful unless there were an ultimate solar panel kit included; the WindyNation kit is perfect for most homesteads that are energy efficient. 
It has two 100 watt polycrystalline solar panels, which are super durable, by the way. It can be placed up to 40 feet away from the homestead because it also includes a 40-foot long solar cable. 
It even includes two 100 amp/hr AGM deep cycle batteries, which are great for solar use, as they can be recharged over and over without losing it's recharging ability. 
You can expect to get roughly 60-70 amp-hours per day if you opt to charge them via the two 100 watt solar panels. The 1500 watt inverter should be plenty for most tasks.
Pros:
 Solar Panel Included
 Brackets Come With Kit
 Plenty For Smaller Applications
Cons:
 Will Not Power Large Homesteads
 Not The Most Durable
Purchase here
6: Renogy 100 Watt Solar Starter Kit With Battery
It was essential to add a solar panel kit that is beginner-friendly, easy to set up, and useful for several types of situations. This solar panel won't power a homestead, but it can be used for several other things. 
This kit includes a 100-watt solar panel, which is more than enough to charge a battery, as long as it's used to power tools or appliances that do not pull an excessive amount of power.  
It includes everything needed to set it up, with the brackets and screws inside of the box. You'll need to purchase the battery separately, but even then, the two together are an absolute steal of a deal. 
This solar panel can charge up to 100Ah every eight hours, making it a useful solar kit worth the money. It's no monster, but for everyday tasks or small cabins, it's great.
Pros:
 Every Piece Included For Setup
 Small – Can Be Placed Anywhere
 Cheap
Cons:
 Battery Is Sold Separately (Although It's Virtually All A Kit)
 Not That Durable
Purchase the Battery and Renogy 100 Watt Solar Panel Kit
7: Eco-Worthy 800 Watt Solar Starter Kit
This solar starter kit is meant for regular-sized homesteads. Its power output is substantially higher than all other products listed above. 
It's certainly a bit pricey, but it'll pay for itself in no time. This solar starter kit includes everything you need, literally. 
You will receive four solar panels, each with a wattage output of 195 watts. This is plenty for most uses. It also comes with an all in one inverter, which goes up to 3,000 watts. 
It hooks up via a 16' solar cable, which should be long enough for most add ons. All of the brackets which are needed for install are included as well. 
The best part is, though, that two batteries are included with this kit. They are each rated at 100Ah, which should sustain you for long enough.
Pros:
 Powerful Enough To Power Almost Any Homestead
 Includes All Necessary Installation Brackets
 Very Durable
Cons:
 Only Includes Two Batteries
 Priced High
Purchase here
---
Frequently Asked Questions 
Which Battery Bank Fits Me Best?
Determining which battery bank is best for you depends on what you plan to use the battery bank for. If you only need one to charge your phone, computer, or even power a power tool, then any of the portable ones will be just fine. 
However, if you need something more powerful to use for heaters, refrigerators, or air-pumps, the DBPower 800 will fit you best. If you are looking for something to power your small homestead, the WindyNation 200 is your best bet. 
I would recommend getting at least one portable, even if you opt for the WindyNation, because it's better to have a backup, especially if you live in a cloudy area.
How Long Do They Last?
Manufacturers understand that battery banks are used repeatedly. Because they consider this, battery banks typically last for at least a few years or more because the battery was designed with recharging in mind. 
I researched and only added battery banks with great long-term user feedback, so I trust that these battery banks are a safe investment.
If you take care of them and do not allow them to sit in the heat for long periods, I believe they'll each last for up to five or more years. 
What If I Live In A Cloudy Climate?
If you're eying the solar battery bank options, especially the WindyNation 200 solar kit, you're probably curious if it'll still charge during times of cloudiness. 
The answer is yes. However, it won't charge as fast as it will on a sunny day. Clouds diffuse the sunlight and scramble the rays from hitting the solar panel. This doesn't completely stop the solar from receiving energy, though. 
You can expect the solar panel to charge the batteries by up to 35% of what it otherwise does in direct sunlight. This isn't bad if you think about it. You'll just need to conserve power for times of overcast.
---
Verdict
If you have a homestead, you probably have some type of power source on your property already. Nevertheless, you should consider getting a battery bank for a few reasons. 
The most important is so it can be used as backup power. However, the immense about of other uses they provide make them all the more worth it. 
Perhaps you're building or adding a section onto a livestock pen; the battery bank could be used to power the necessary tools to get the job done.