Books are great tools you can use to learn, so I've reviewed a few of them that provide excellent information to learn from.
If you have been looking for ways to learn new things about homesteading, books are one of the best resources you can use.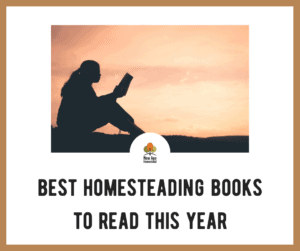 There are all types of books out there that claim to have every secret yet lack any information that most people will never implement.
I've added books to this list that provide useful information that doesn't require you to have some crazy set up to achieve what you learn.
Many books that pretend homestead experts wrote them are easily falsifiable, which is why I've made sure only to add homestead books written by people who know what they're writing.
These books will serve you well, and after you read them, they'll be a great guide to glance back on in the future when you come across another homesteading challenge.
Best Homesteading Books: My Recommended Choices
The Encyclopedia Of Country Living
This is unquestionably one of the favorites of mine on the list, as it's essentially a one-stop-shop for all things homesteading. 
The book isn't entirely meant for only homesteading, but the vast majority of the contents are filled with priceless information to learn from. 
This book is perfect for any beginner wanting to learn the basics. It certainly goes into detail, but in a way that is understandable and easy to implement and take action on even for the newest newcomers. 
I've lived and breathed everything country, and this book even surprises me at the sheer amount of content it offers. If you can only purchase a single book, this is undoubtedly one of a few that is a must-have. 
The only con I have amidst this book is its size, not that it's a bad thing, but it cannot fit in most pockets, which means you'll have to carry it around with you if you plan to bring it out on the field. 
The Herbal Medicine Maker's Handbook
I found myself super stoked to share this book with you because I'm huge on herbal medicine. It's natural, and it can be sourced from mother nature, and it's growths. 
This book is a must-have, even if you're not familiar with herbal medicine. The man who wrote this book has spent years researching herbal medicine and has put many of them to personal use. 
This book teaches just about everything you need to know, but more specifically, what kinds of herbs can be used to act as natural medicines.
You'll learn about several types of herbs that can be planted in your garden, many of them which are very easy to grow. A medicine that you may have heard of is ginger. 
This can be used for all types of purposes, including stomach aches, infections, bowel health, and more, and this is just one of the numerous herbs covered in the book. 
This is also a must-have, especially if you want to stay away from the big pharma companies. 
Natural medicine is the way to go if you're able to; they provide similar results while being much safer and cheaper than ordinary meds.
The Beekeeper's Bible
If you are a beginner to homesteading, then you may not be familiar with one of the most underrated additions to a homestead: Beehives. 
These can provide honey and wax, which can be used for several purposes, including natural medicine, candies, honey, candles made from the wax, and much more. 
This book explains all of this very well, I've had several beehives over the years, and I can truthfully state that this book gets it right. 
For starters, it covers how to start a beehive, which isn't always the most straightforward process for a beginner. 
It will additionally go into detail about how you can take advantage of the beehives, including how to put the honey itself into use, which, as stated before, can be used for medicinal reasons, food, and more. 
The book even carefully details how the beehive can turn into an endless amount of candy, candles, and even income. This book is excellent for anyone new or well into homesteading.
Sepp Holzer's Permaculture
This book is one of those books that you could imagine being written by your grandpa. 
It's written by an old-school guy who gets straight to the point and never sugar coats anything. This is a massive plus because too frequently, I see books act as if we are scientists.
If you are thinking about adding livestock to your farm or simply want to further your knowledge if you already have livestock, then this is the perfect option for you. 
Its main emphasis is on farming and how you can do it as easy and straightforward as possible while doing it the right way. It is a very technical, traditional, jam-packed book, that's for sure.
He also gives a ton of attention to gardening and throws a few exciting tactics into the picture. 
Still, this book, in particular, is excellent for anyone, as he has a bucketload of knowledge that's been simmering for years, all finally put into a book — one that I'd call a masterpiece, and I rarely say that.
Possum Living
This book is another one of my preferences because I love the idea of not having to rely on a job while living on a homestead. That sort of defeats the purpose, but not entirely. 
Nevertheless, Possum Living is a book that covers how to live on a homestead without a job. I've always stated that reliable livestock and gardens suffice for an income if done right, but this book brings an entirely new perspective. 
I won't spoil it all, but you can expect many ways to sustain on your homestead with no job, including how to hunt, fish, grow crops, and more. 
He teaches this in a very traditional way, so there are virtually no modern tools needed if you want to avoid using them. 
This is a massive win in my book because homesteading is all about living on and using the land to survive. 
Fancy tools aren't needed, but they are excellent. It's just great that this book brings a fresh perspective in a modern world, that's for sure.
This is especially useful for anyone seeking to retire on their homestead. It'll teach you how to be much more resourceful.
The Contrary Farmer's Invitation to Gardening
If I were to recommend any book to someone wanting to get a head start in gardening on their homestead, this would undoubtedly be the one.
It's jam-packed full of topics that can be used by anyone in all experience levels. The book features several issues, such as raising chickens, processing them, and cooking them. 
Many other topics are also within the book, but something that sticks out to me is that economics are included. 
This is not commonly discussed in many homesteading books, and when it is, it's average at best. Gene does go into great detail, bringing lots of great advice, especially for new homesteaders, yet useful for everyone.
A topic that some of you will like is that he talks a lot about alcohol and how it can be sourced from your homestead. The principal idea of this is to source it via grain, resulting in grain alcohol.
If you're looking for a book to teach you everything about the basics of farming on a homestead, this is certainly worth considering.
The Good Life Lab
Those new to homesteading almost always immediately seek to learn about the more common topics such as gardening, livestock, and the off-grid aspects like solar and water sourcing. 
This book brings a unique approach because it hits on points that are rarely spoken about. 
This involves how you can farm fuel from the homestead, particularly biofuel, and even points out how concrete and other beneficial materials can be created by merely using the livestock's feces to make it. 
It's not the most exciting idea of a day on the homestead, but if you want to learn of cool and useful ways to make your homestead as self-sustainable as possible, then this book is highly recommended. 
I try not to spoil the books I review, but you can expect this book to be an eyebrow-raiser and one that makes you think. 
If you have livestock on your property, I would especially recommend this book to you, as you'll inevitably have a ton of waste to get rid of, which could otherwise be helping you in significant ways.
The Backyard Homestead
If you are new to homesteading, you've probably heard a lot about the homesteading essentials: gardening, livestock, and canning, to name a few.
This book covers all of this and much more, but this book details how you do it, unlike many other books.
If you need any food canned, opening this book will reveal several ways to do so, including the necessary processing before canning.
It covers a multitude of other topics, including homestead layouts, but more specifically, layouts for various property sizes.
It also goes in-depth on how to butch several types of livestock from start to finish; si this book is perfect if you're new to butchering as well.
It also goes into how you can put a barn to good use, including storage options, layouts, and more; this book truly is an all-in-one.
---
Frequently Asked Questions
What Else Can I Use To Learn?
I hear this question asked a ton, and with good reason. Books are great ways to learn, and in some cases, you may want to add to your learning process and not only read books.
If you take a look at our website, we already have several articles that have tons of useful information. However, there are other ways to learn too.
My favorite is by watching homesteading YouTube channels, which often show a first-hand perspective on raising livestock, growing crops, building projects, and more.
How Much Do Homesteads Cost?
This can vary widely if you consider the cost of land because some areas may have an average sale price for an acre at $3,000, while others are priced at $25,000.
I'll leave the cost of land out of these questions. If you start with an empty hand, then expect to spend upwards of $10,000 or more to build a small-sized homestead.
$10,000 could very well build a smaller homestead the size of 25×25, but keep in mind, this is only the home. The garden will cost a bit to start, and the livestock could cost a few thousand.
---
Verdict
It's not often that I write reviews about books, and that's because I wait until I find ones that offer a plethora of information. 
This isn't the only reason, though; many books have tons of information written with good intent yet are nearly impossible to implement and try due to a poor text illustration. 
These books were written by individuals who have lived what they speak and share many tips and what to avoid. 
If you are a person new to the idea of homesteading or simply want to further your existing knowledge, then I highly recommend picking up at least a couple of these books. 
They make for great gifts too, I was given one once, and I couldn't put the thing down; it's as if the book were made for me.