If you've been looking for great ways to learn more about homesteading, then YouTube is the way to go. Here are the top ten homesteading channels on YouTube.
YouTube turned into an entertainment monster in the previous decade, pulling in over a billion active users. The website features thousands of channels, which, by the way, is more than sixty thousand years' worth of content combined.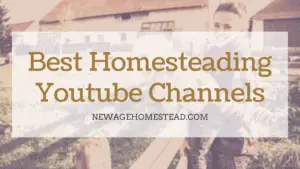 The entertainment giant isn't only good for cat videos and food recipes, though; it's also phenomenal to use as a learning method. It seems like a contradiction to learning, right?
But believe it or not, these videos will teach you more than just about any other form of media on the internet, mostly because they can illustrate examples live for the audiences.
There has been an enormous growth of YouTube channels specializing in homesteads, with each approaching the lifestyle in their unique way.
This is why I've decided to look at which homestead related YouTube channels have proven useful to viewers as a great learning source. Here are the top ten YouTube channels, unranked.
---
Top 10 Homesteading YouTube Channels
1: Keeping It Dutch
If you consider bringing your family into the life of homesteading or simply want to see what you can expect, then Keeping It Dutch is the perfect channel to visit. 
Dutch is huge in keeping everything traditional, except for the home, which he did not build. Because he had a company build the homestead for him, he could spend more time on other things, like building up his homestead property. 
He has water well, which is featured in one of his videos. Secondly, he does tons of woodworking, which is something I regularly suggest newcomers find an interest in. 
He also has many kinds of livestock on his homestead and often makes videos about them. If you are looking for an all-around educational channel with a family twist, I highly recommend that you visit the Dutch channel. 
You can find Keeping It Dutch by clicking here.
2: Lumnah Acres
If you're looking for a YouTube channel that brings a modern approach to homesteading, the Lumnah Acres could be just the channel you are looking for. This channel has it all. 
You'll find that Lumnah Acres regularly shares videos related to homesteading, such as woodworking of all types, firewood gathering, several types of excellent projects, and much more. 
He's huge on gardening, commonly sharing videos of the better ways to plant and irrigate the crops. The modern approach is mostly in the design and structure of the property, so it's not what you'd expect the rustic stead to look like. 
However, he does a great job illustrating his ideas, and it's certainly a channel worth subscribing to, as these all are.
You can find Lumnah Acres by clicking here.
3: Off-Grid With Doug & Stacy
This channel is one of my favorites, and with reason. Doug and Stacy are some of the most off-grid educated individuals I've seen on the web. 
They take a unique approach to homesteading, taking many similarities from the Amish; plus, Doug kind of looks Amish, but that's my opinion. 
They do a plethora of projects around their off-grid cabin, including canned food, which by the way, is critical to know, sewage installation, and several various tips on how to homestead on a budget. 
A huge plus is that Doug and Stacy have bee-hives on their property. This is probably one of the most under-rated additions to any homestead, so you'll have the chance to see how that works too. Overall, I highly recommend this channel.
You can find Off-Grid With Doug & Stacy by clicking here.
4: Deep South Homestead
This channel is excellent for those looking for advice from people who live in the southern part of the states. Dan offers all types of helpful videos for our viewing pleasure, including many very viable projects. 
A few of his videos include solar panels, smokehouses, food preservation, and even heavy equipment working. 
He also offers various tips for those of you seeking to learn more about winter homesteading preparation, growing crops inside of a Greenhouse. At times, he reviews helpful books covering all types of relevant aspects. 
He has also uploaded a complete tour of his homestead, which I found to be pretty unique. It's one worth checking out, that's for sure.
You can find Deep South Homestead by clicking here.
5: Colorado Mountain Living
I was excited to share this because, as the title suggests, it's located in the mountains; how cool is that? If you take a look at their channel, you'll find that they've posted numerous videos about woodworking, but not just any kind of woodworking. 
They're making top quality pieces that would last a lifetime. Plus, since this is Colorado, after all, they go through heavy winters. 
This is great because they post several videos of ways to handle the immense amount of snow that falls. They also commonly use heavy equipment to get some tasks done, so it's neat to see which ones are helpful and those that aren't. 
They're also very tidy with how they store things, and I'd say that the way they approach this is one to follow for most.
You can find Colorado Mountain Living by clicking here.
6: Arms Family Homestead
This channel is full of variety and also includes an aspect that many of the other channels do not that are listed here; hunting. 
This is a crucial skill to possess for anyone living off-grid. They also have a plethora of livestock, and many videos feature the family up close and personal with them. 
They also include a bit of fishing on the channel too, which is nice. He regularly uses heavy equipment on the homestead and has even cleared out a partial part of woodlands to be used as a pasture. 
This is an epic channel for anyone wanting to see what it's like living on a homestead with family. The donkeys alone make this channel all the more worth checking out.
You can find Arms Family Homestead by clicking here.
7: Red Poppy Ranch
Though most homesteaders are the do-it-yourself type of people, the man himself over at Red Poppy Ranch truly defines this idea. 
He's almost always finding something new to get his hands dirty with, but in particular, he loves building new projects. 
He lacks in the livestock department, but don't let this take away from the several other fantastic topics to learn from on his channel. If you've wondered how to set up a water tank, he's got you covered. 
If you've wanted to add a front porch to your homestead, you'll find it on his channel. The reality is, is that he has just about everything covered while being good at it at the same time.
He is a step by step kind of guy, so this channel is perfect for both novices and experts alike.
You can find Red Poppy Ranch by clicking here.
8: Stoney Ridge Farmer
If you're looking for a channel that involves more farming livestock, then Stoney Ridge Farmer is undoubtedly an excellent channel to check out. 
He regularly shares content that is jam-packed full of tips for raising livestock of all kinds. Plus, he uses all equipment types, so we get to see a second-hand view of what it can all be used for. 
If you look at his channel, you'll see that it's filled with videos ranging from ATVs, Excavators, Brush Cutters, and more. These are all things that could prove very useful on a homestead. 
He also does a lot of woodcutting, which is nice. He's always doing some type of project on his land, which gives me a ton of ideas, that's for sure. If you're interested in more of a farming homestead approach, this channel is a gem.
You can find Stoney Ridge Farmer by clicking here.
9: Wild Wonderful Off-Grid
I'm happy to see the younger generation becoming a part of the homesteading community. This couple takes a hybrid approach of off-grid and homestead and somehow makes it all work together very well. 
They love doing upgrades to their property regularly and almost always have something new going on. They love doing unordinary things, such as installing a glass wall. 
They're very traditional, in a sense that they kind of remind me of the Amish, although they're not quite at that level; yet. Their stead is very lovely, featuring multiple stories and a tin roof. 
Many of their videos show them doing all types of construction, so if you're looking for that kind of advice, then this channel is for you.
You can find Wild Wonderful Off-Grid by clicking here.
10: Weed 'em & Reap
If you love goats, then this channel couldn't get any sweeter. The family takes a super modern approach, but with most of their focus on goats. 
They share tons of content, often showcasing many of their unique builds. Lots of their builds are used to shelter the goats, and I'll say, these goats are living in luxury. 
They regularly take the goats for a swim in the water, which they love. The coolest thing about the channel is when they showoff the baby goats; it can't get any better than this. 
It's not the typical homestead like the others listed before, but it's certainly a channel that offers a ton of handy information for anyone.
You can find Weed 'em & Reap by licking here.
---
Frequently Asked Questions 
What Are Homesteads?
Homesteads are the ultimate property with self-sufficiency in mind, often with a cabin or other rustic home. 
Many homesteads have gardens that provide most, if not all, of the produce for the family. It's also prevalent for a homestead to have a few kinds of livestock, farmed for eggs, milk, cheese, leather, or harvested for meat.
The most significant idea of a homestead, though, is that it must be completely off-grid. Most commonly, they are powered by solar. Water is typically sourced via rainwater harvesting systems or via well.
Are There Other Methods To Learn? 
Youtube channels illustrate things that are hard to learn otherwise. However, not every skill must be presented for you to grasp the concept and use yourself. 
Books are great methods to learn from. There are several great homesteading books out there to read, often teaching gardening, raising and harvesting livestock, and just about any other thing you'd ever need to know. 
You can also look through our website, where we have tons of related articles written by people who have lived and breathed the off-grid lifestyle.
Can Anyone Start A Homestead?
Anyone can start a homestead. Recently the homesteading community has noticed an upwards trend of newcomers to this idea, and unsurprisingly we are seeing several insane homesteads builds with all kinds of unique ideas. 
The point here is that anyone can learn how to homestead; it just takes a little bit more time to get started. Plus, there are a ton of resources, and people very willing to help you whenever needed. 
I'd recommend learning about the laws first, then perhaps consider looking into various locations to get an idea of what kind of climate you're getting yourself into. Make sure it has plenty of water, sun, and high-quality soil. 
---
Verdict
If you're anything like nearly a quarter of all of earth's population, you enjoy a YouTube video here and there. 
YouTube is commonly used for entertainment, and while that's great, it can be used for learning. I tried my best to include YouTube channels that were both entertaining and jam-packed with valuable information.
This way, you can relax and learn at the same time. Many of these YouTube channels are diverse from each other, and that's exactly what I wanted. 
Diversity in learning is critical in anything, but in particular, homesteading. Pay one of these individuals (or families) a visit, and I'll bet you like at least a few of them.
Once you do this, you'll have a much better understanding of what to do next, making you one step closer to making it a reality.