If you live alone or simply want to make a few friends so you can trade homestead ideas with them, this guide was made just for you.
If you've been looking into the idea of a homestead or simply want to make a few friends to kick back and share ideas with, then you've found the right place.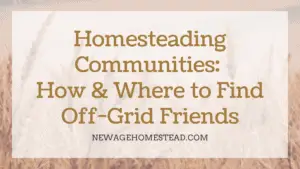 Homesteading comes with a ton of excellent aspects, but it also brings many challenging situations as well. 
If you think about it, most homesteads are far out of town, and being that most homesteads are entirely self-sustainable, the owner may not always have a reason to go into town. 
This can be a problem for some homesteaders as this means less human interaction, which essentially means fewer friends and people to share ideas with. 
This gave me the idea, what are a few things that homesteaders could take advantage of to meet new people and find communities relative to homesteads? 
This is what I'll be going over today, including a few places you can find homesteaders in, both online and offline. Let's jump into it.
How And Where To Find Off-Grid Friends
Farmers Markets
I could not even begin to count the number of family friends I've gained by merely stopping at the local farmers' market.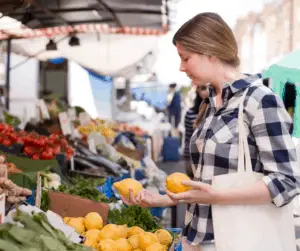 These markets are an extremely popular place to visit among many homesteaders, as the farmers' markets can provide fresh veggies and fruits when supplies are running low at the homestead.
They're almost always owned and operated by a family, and since most of the buyers are regulars, the family who runs the market will inevitably come to know most regulars.
This gives you the chance to ask if there are any homesteaders around, or perhaps if you can drop your contact information to them so they can give it to the other homesteaders. 
Many farmer's markets have connections to various events that may be just what you're looking for.
Facebook
This should not be a surprise, but if it is, then let me explain. Facebook, as a website, has billions of users online at any one point. 
Many of these users are interested in the same area you are – homesteading. It can be hard to find the people at first, though. 
It's probably not a good idea to just start messaging people and asking them to be your friend. However, there is one thing that mainly sticks out as useful for this very reason; Facebook groups. 
If you have not yet discovered any yet, simply search the keyword "homestead," which will result in hundreds of groups popping up. 
Many of the homestead groups on Facebook have tight nit communities that, more often than not, act as one and as a family. 
They love to help each other, and I could not count how many times I've seen a meetup happen in the comments. 
Facebook groups are probably one of the better ways to find homesteading friends online, but it's not the only one.
Forums
If you do not currently use forums, then you should. These are websites with a similar idea to websites like Reddit, but with a more tight-knit and niche specif role. 
There are forums for just about anything you'd ever need, such as crop growing, tree planting, livestock raising, and more. 
I've seen many individuals ask for an address after hundreds of replies to each other because they had so many kinds of similarities and ideas to share in real life. 
They're not great for only making friends, though. You'll learn a ton of stuff on the forums, just like you do here. 
These forums even have events throughout the United States, which are called meetups, allowing the homesteaders to get together and meet other homesteaders locally. 
This makes forums a great place to meet a few off-grid friends, often who are interested in the same area you're into.
Local Gardening Groups
If one thing is sure, It's that you'll undoubtedly find other homesteaders hanging around the local gardening groups.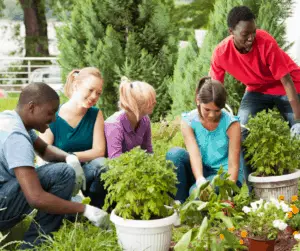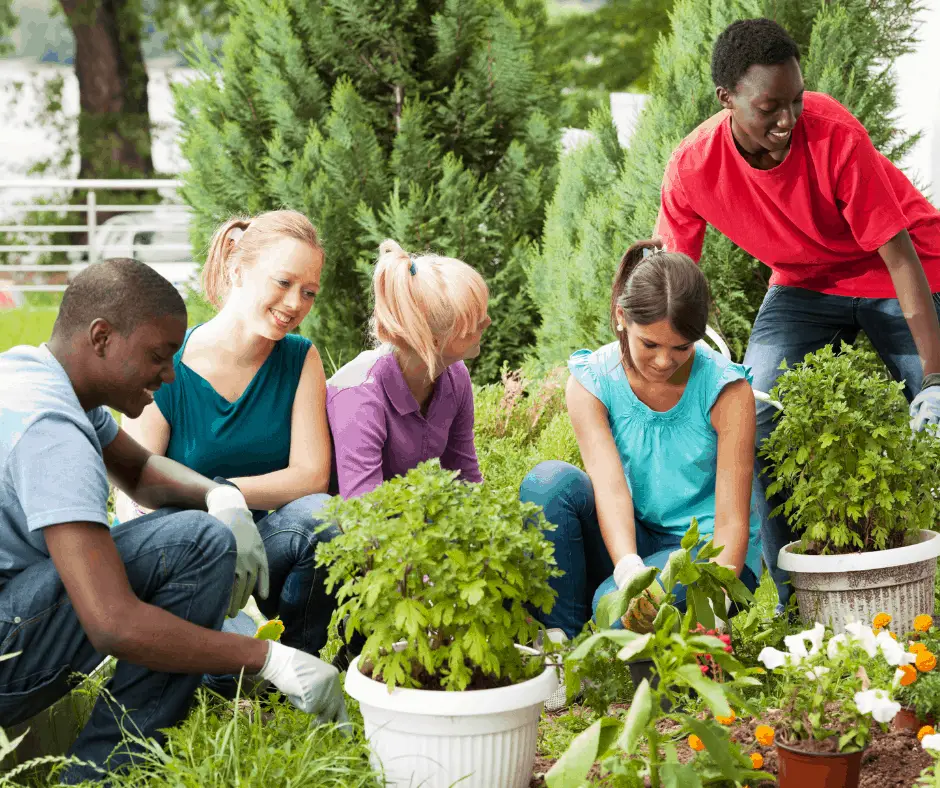 Homesteading isn't a new concept, but it's certainly a trendy idea right now, which means there are tons of newcomers getting into it.
Since the most significant way that food is supplied to the residents of the homestead is via gardens, this only makes sense that many will be flocking to these groups.
They're not great for just finding new homestead friends, though. You'll learn a lot of useful information that can be used to further your first-hand experience.
You will learn how to plant certain types of crops, when to plant them, how to make sure they grow into healthy crops, and how to process them, too.
Auctions
If one thing is for sure, it's that homesteaders love attending auctions in their area. Many homesteaders have small livestock farms on their property, so they attend the auction to either sell or buy new livestock. 
In some cases, they also sell crops or purchase new equipment. Regardless, finding an auction local to your area is a sure-fire way to find homesteading friends of all types and ages, new or well into the game. 
It's not only homesteaders attending the auctions, though. Many farmers and off-grid living individuals also attend the auctions for the very same reasons. 
I've attended auctions many times throughout my life, and I know for sure that connections are made there. 
There has never been a time I've gone to an auction and did not hear people yelling "how's it been, bobby?" from across the room, only to see them talking out back for hours after the auction has ended. 
This is the best offline way to make homesteading friends without a doubt.
Reddit
If you have not heard about Reddit, let me explain what it is and why it could be useful. Reddit is a social media site, similar to a forum, but different in many ways. 
If you log onto Reddit and search the keyword "homestead; or "off-grid," you'll come across several subreddits that have thousands upon thousands of members. 
I logon daily and regularly see other homesteaders posting videos, photos, how-tos, and more. 
I've seen many people use Reddit as a middle ground for meetups, and some of the subreddits have even made small meet-ups, which were set up by the members themselves. 
Reddit may not be the first idea as to the best way to make off-grid friends, but if you use it correctly and become a part of the community, then making off-grid friends will be an easy task for anyone.
The Local Feed Store
If one thing is inevitable, livestock homesteaders will need to visit their feed store regularly. It is a great way to find other homesteaders. 
The chances may be low in terms of running into them, so you could perhaps talk with the individual running the register and ask if he knows of any others that homestead.
This way, you could either get in touch with them or maybe even give your number to him so he can alert the others in the county of you. 
I've done this before, specifically for finding pheasant eggs locally, and it worked. The next weekend I was at his property and ended up making a friend and leaving with an actual pheasant, and not just eggs.
This is also a chance to ask and see if there are ever any meetups or small events happening around town. 
I know for sure that some towns have these meetups that would have never been known if it weren't by word of mouth. 
Country folks are friendly people, so asking around is your best bet. Chances are, is that Mr. knows a homesteader down the road'.
---
Helpful Facts About Community Building
How You Can Get Into Homesteading
If you're not yet a homesteader, it's not as difficult as you may think. Firstly, homesteading is all about going off-grid and building the homestead so that it can provide all necessities for you. 
This includes crops, livestock, natural medicines, water, and more. Homesteads can be built very cheaply too. Besides, cheap homesteads are just as good as costly ones. 
In short, though, you'll need to purchase a few acres or so, make the building plan, keep it simple, take self-sufficiency into mind, and consider how you will have it provide for you and build around that idea.
Newcomers Can Still Make Homestead Friends
Most homesteaders are novices, as the idea of homesteading, while not new, is currently trending, which means there are tons of newcomers coming into the picture. 
Plus, experts who have been in the game for a while love teaching others anyway, so finding friends will undoubtedly be an easy task if you take the steps mentioned above. Don't just stick to homesteaders, though. 
Farmers also have a plethora of valuable information to share, ranging from all types of topics. Some will be experts in livestock, and others, experts in crop growing.
How To Help Others Learn If You're Already Experienced
If you are already an expert and you're reading this article to find friends so you can share your expertise and ideas with, then visiting the locations above will work perfectly for you by following the same methods. 
You could also consider asking the cashiers if you can pay a small fee to them each week to post a little sign on the door, stating that you're looking for other homesteaders in the area. 
Those of you who reside far out of town likely have done something similar before, but it's worth mentioning.
---
Frequently Asked Questions
Do I Need Homestead Friends?
Even if you feel you don't need homestead friends, I'd still recommend it. Frequently, we do not see our own mistakes. 
Perhaps you've been growing a particular crop the wrong way; this is where your friend could correct you and illustrate how to grow it properly. 
Plus, friends are connections. If you plan to sell anything grown or raised on the property, they're a great way to get the word out, and that's if they don't want to buy it first.
Which Books Are Best For Homesteading?
I'll recommend three books that I believe will give you a great head start. The first is Backyard Gardening. This homestead book is excellent for learning the basics of all things gardening.
The Backyard Homestead is excellent for those of you tight on space, as it teaches how to grow food in only a quarter of an acre.
Lastly, I'll suggest The Encyclopedia Of Country Living. This is the ultimate book for virtually all things off-grid and more. If you're a newcomer, this is a fantastic read but is even still excellent for those not new to homesteading.
How Are "Homesteads" Different Than "Off-Grid"?
This very topic is probably one of the most commonly asked questions out there. Homesteads are entirely off-grid but also have self-sustainability in mind. 
This means that you can entirely rely on the homestead for all necessities, such as food and water. Off-grid is just that; off-grid. All that term implies is that the property is either locally powered or not powered at all. 
They can have similarities, but homesteads have many more aspects than just being disconnected from the grid. 
---
Verdict
I know the feeling of looking for new friends, especially with niche ideas like homesteading. When I first began raising pheasants, I did not know of any others who did so as well.
I began asking around, and before I knew it, I had a vast contact list full of farmers and homesteaders alike who also raised pheasants. 
To newcomers, the idea of seeking out people this way may seem alien, but it's an entirely normal way to do so. 
You should also consider that many homesteaders do not have social media, so offline methods are used. 
The online methods are great for the younger generation, though, so you'll have to see which works best. 
Plus, as mentioned before, friends are connections, too, which you will find to be more valuable than gold itself.