If you need a chainsaw for your homestead, then be rest assured that you've found a list with some of the best available.
I grew up off-grid, with a hunting club of over 1,400 acres connected to the property; along with every other responsibility, using a chainsaw was a regular occurrence.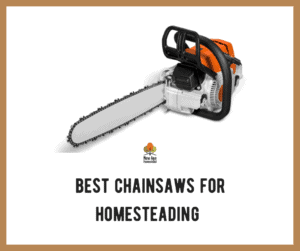 I've cut more firewood pieces than I can count, laid down many trees to create trails, and have used them for several other reasons.
It's very easy to go wrong with a chainsaw. Chainsaws go through extreme conditions, so having reliable, powerful, and easy to work on chainsaws is critical.
There are many brands of chainsaws available, but I'm only adding the best here. You could get away by using an off-brand chainsaw, sure.
But if you want your chainsaw to hold up, even in the hottest, most rugged conditions, then this list is tailored to you; let's jump in it now.
Best Chainsaws for your Homestead: My Picks
1: Dewalt 20V Battery Operated 12" Review
If you're looking for a chainsaw that'll tear through the biggest trees, then this isn't the one. However, this chainsaw has its place on a homestead. 
It features a 12-inch bar, and while that's nothing to brag about, it's still plenty long enough for most small uses, such as cutting through 6" trees or perhaps brush. 
I wanted to add in at least one chainsaw that was battery-operated because not everyone would like the loud noise and inevitable gassy smell that comes with a regular gas chainsaw. 
Plus, there's no need to keep gas around. The only downside is that it'll have much less cutting power than a gas chainsaw would.
It won't hold a charge for as long as gas chainsaws can run on a single tank of gas. It's an excellent buy for most smaller uses; plus, it's a Dewalt, which is known to be reliable.
2: Craftsman S165 16" Review
The Craftsman S165 is perfect for those of you on a budget but still need the power of a gasoline chainsaw to get the job done. 
It's not a powerhouse, but its 2-cycle engine will be able to provide enough power for most moderate jobs. 
The build of the chainsaw is on the cheaper side, but the plastic appears to be very tough. I'd upgrade the original chain from the get-go, or at least sharpen it before you use it.
This chainsaw features a 16-inch bar, which is plenty for most uses, although it wouldn't be a great option if you need to cut down large trees. 
The 42cc engine should suffice, but it's not going to have crazy power like some of the others listed here. 
It includes an oil carrying case, which is excellent, and it is very lightweight, making it an all-around good purchase for this price range. 
3: Poulan Pro PR4218 18" Review
I've owned several Poulan Pros, not because they keep breaking, but because of the excessive work I've put them through. 
They just don't stop; my Poulan chainsaws have outlasted just about every other brand out there that I've owned. This Poulan is one of the best mid-range gas chainsaws out there. 
It features an 18'' bar, which is a great overall size, and for a reason. 18'' blades are great for most jobs, as they can cut through most larger trees. 
Something that I love about Poulan chainsaws is that they're simple to work on. 
Many chainsaws have an unnecessary amount of components that need to be removed to access certain parts, but this isn't the case on the Poulan, which is very much appreciated.
It's a 42cc, just like the Craftsman, but it will provide a bit more power. This Poulan also includes an extra bar (which is decent, by the way) and a carrying case.
4: Husqvarna 135 Mark II 16" Review
Husqvarna is a chainsaw brand that often receives mixed feedback. However, I've used them myself, and I've known many people who have as well. 
I rarely hear of negative experiences with Husqvarna chainsaws, which can't be said about some other brands. 
The Mark II only has a 16'' bar, but the 38cc engine more than makes up for this, as it's tuned to get the most performance out per cubic inch. 
The engine also has x-torque, which helps with fuel consumption; if you've ever used a chainsaw, you know they are gas hungry. 
The Mark II also has a super simple quick-release air filter, which isn't very common, and a side-mounted tensioning system, which is extremely convenient. 
It additionally has a feature that feeds oil to the chain, which is a huge deal, at least for me. If you want the most dependable chainsaw in the $200 range, you'd be hard-pressed to find a better one.
5: Echo CS-1400 18" Review
Echo is known for their pole saws, but their chainsaws are just as robust and reliable. I've used an echo pole saw more times than I can count. 
I've put them through hours of strenuous use, both on a hunting club and job sites in extreme conditions, and I've never had one fail on me. 
The only negative is they're warm-hearted, so it'll take just a few more pulls to get cranked up; however, this particular Echo has an easy start, which will undoubtedly help this. 
This Echo has an 18" bar, so it'll be more than enough for most needs. A 40.2 cc engine powers the chain, which is going to provide plenty of power. 
There are also choices to upgrade the bar size to a 20", as the engine is more than capable of handling it. 
If you want a chainsaw that has plenty of dealer support, proven reliability, and more than enough power, you really can not go wrong with this Echo. 
6: Remington RM4618 18" Review
Known for its exceptional firearms, Remington has broken into the tool industry and has begun making chainsaws. 
They've continued doing this for quite a while, but recently their chainsaws have gone through some changes to make them more comparable to higher-end choices. 
The RM4618 is an excellent choice for those of you on a budget yet need something a little more powerful than most other options in this price range. 
It features a bar size of 18", which is big enough to cut through most trees. 
Most cheaper chainsaws have a lot of vibration, so it's nice to know that the RM4618 has a few techniques to help with this. 
It has an automatic oiling system, which is great to have, as it'll save you time and lengthen the chain's lifespan.
---
Why You Need A Chainsaw for a Homestead
Trimming & Cutting Trees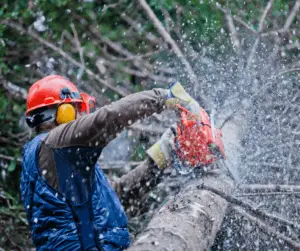 A very common use for a chainsaw is trimming and cutting trees. I've used a chainsaw to cut trails to my off-grid home while it was being built and for other purposes like cutting trees down.
Each chainsaw will have a different use vs. others, such as small, simple jobs like trimming thick brush or bigger jobs like cutting down large trees. 
It's essential to choose a chainsaw that's right for you, so don't go too big or too small for what it'll be used for, or you could risk wasting money on something too little or too much.
Wooden Projects
I've used a chainsaw for much more than just trimming and tree cutting, and many others have as well; they're not only used for that, even though it's the primary purpose for a chainsaw. 
If you're building a livestock pen or perhaps have a super thick piece of wood that a regular skill saw can't cut through, a chainsaw can take care of this quickly while maintaining a clean cut. 
Some people also use them for sculpting, which isn't entirely hard once you know how to use one; just don't expect it to be a masterpiece.
Cutting Firewood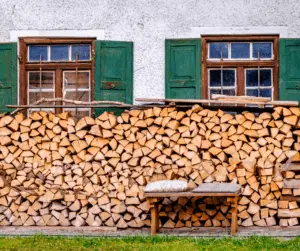 Finally, chainsaws are used for firewood, and since these chainsaws are being considered for a homestead, they'll likely be used a LOT. 
Because of this, it's critical to choose a chainsaw that is reliable and can be put through even the toughest of jobs.
Many chainsaw brands may hold up for a few months, but they'll generally lack the power and reliability you need. You want to invest in a chainsaw that'll provide real longevity, no hassle.
/se
How To Maintain A Chainsaw
The Engine
Chainsaws are meant to be used and abused, but for them to last, you'll need to make sure you maintain them properly, and this starts with the engine.
To make sure you get the most extended lifespan possible out of the engine, make sure you regularly keep it clean, as oil and gas build-up can damage seals.
It's also an excellent idea to make sure the tank and gas lines are kept clean since the chainsaw will likely have debris flying all around this area, which can get into the engine and damage it.
The Chain
The chains used in chainsaws are most commonly made of stainless steel, and even though it's a strong metal, it also needs maintenance.
You should always make sure the chain and gear get sufficient oil, as avoiding this will lead to rust, excessive wear and tear, and more.
It's also important to sharpen the chain regularly, as this will not only make cutting hardwood easier but save you from buying more chains than necessary.
The Oil
A very common reason why chainsaws break down or fail is due to poor management of the oil. As mentioned before, the chain and gear should regularly have oil added.
However, you must also add oil to the gasoline if it is a 2-stroke. Not doing this will cause the engine to heat up and weld itself together.
Four-stroke chainsaws do not require oil added to the gasoline, but these are much heavier, bulkier, and frequently less powerful. They're not often produced for this very reason.
---
Open Questions about Chainsaws
Which Brand Is The Best?
Many brands are long-lasting and reliable, but unfortunately, some are not sold online, hence why they were omitted, such as Stihl's.
However, the ones that I've reviewed in this article are just as good in most cases, but if I were to choose the best brand, it's the Echo.
Echos are just as reliable as any other high-end chainsaw. Echo chainsaws are known for their ability to outlast most other brands, which is why I've included one.
Are Echos As Good As Stihls?
If you are familiar at all with Stihls, then you've probably heard for years of how great they are; they're genuinely exceptional machines.
However, I don't think the extra price is worth it for most people. I've seen many individuals head to the shop just to spend hundreds of dollars on repairs.
That's enough to buy an entirely new Husqvarna, for example. So even though they may perform better in some cases, if it breaks, it's going to break your wallet, too.
How Do I Choose The Size?
If you get a chainsaw that is too large for what you need it for, then it's just going to be an inconvenience.
Vice versa, with a smaller chainsaw, they could lack the power and bar size to cut down larger trees or firewood.
The best bar size to start with will be a 16"; if you're a chainsaw novice, I'd recommend going with that size, or smaller, as bigger, 26'' bars are harder to control.
---
Verdict
Chainsaws remain one of the most useful tools to have anywhere, but this is especially true on a homestead, mostly if the land has not yet been lived on and established.
Most chainsaws are simple and easy to operate, but it's imperative to be careful with them. Even the most experienced user can have accidents caused by equipment faults.
If you want a smaller chainsaw, perhaps if you homestead in the suburbs, then the Dewalt may suit you best.
The Craftsman, Polan, and Husqvarna are great mid-range chainsaws, great for most moderate uses.
Finally, the Echo is best for larger purposes, and if you're going to be doing some heavy work, it'll suit you best; but the other mid-range will do just fine.