If you're looking for protection around the homestead or merely a tool to use for wildlife harvesting, then you've found the right place.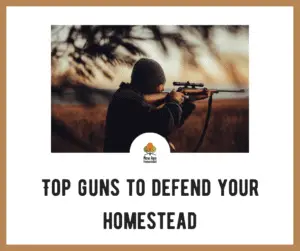 Firearms are some of the most useful tools on the planet. They're used for several different reasons, including protection, hunting, and sports, to name a few. 
If you're looking for a dependable firearm to defend your homestead, you don't want to buy just any gun, as some are better used for particular scenarios.
A shotgun goes a long way against a simple threat, but it will prove useless against multiple threats or if the danger is at a long-range. 
Finding the right firearm for a particular threat is critical, so I've made a list of a few weapons that I believe will suit you well on your homestead. 
I did consider a few factors when adding them in, including typical reliability, price, ammo access, and firepower.
I also wanted to add weapons that can be used for hunting as well, since self-defense is hopefully something that you'll never need to use the gun for.
Let's jump into it now.
Best Homestead Defensive Weapons
Best Rifles 
30-30
In my opinion, the 30-30 is one of the most versatile firearms out there; they're also extremely reliable.
My ex hunting club, which consisted of more than twenty members, had many people who swore up and down that the 30-30 is one of the best. 
This firearm isn't the greatest at super long ranges, but it's great for medium ranges and even close up. It's a lever-action rifle and can be fired very fast. 
A good friend of mine was target practicing about a mile away, and when he arrived back, the hunting club members said they heard an automatic rifle jokingly.
The 30-30 can keep up with any reloading speed, making it an excellent rifle for multiple threats. 
Ammo shouldn't be hard to come across, as it's one of the most used cartridges in the states. 30-30s are also excellent at penetrating through thick brush and will quickly lay down most wildlife or threats.
AR-15
This would not be a good list unless it featured an AR-15. This rifle is semi-automatic and offers excellent flexibility and customization. 
If you're searching for a rifle that is very portable, lightweight, and has a ton of optional accessories, then the AR-15 is your best bet.
This rifle can be used for all purposes, including self-defense, sporting, and hunting, especially smaller game. Most AR-15s use the .223 or 5.66mm, which are very popular calibers, making them easy to find and cheap to stockpile.
It can be fired very fast, and when you consider the caliber size, you'd be hard-pressed at finding a better firearm for self-defense.
There are many AR-15 conversion kits available as well, so you can use just about any caliber size you want if it's available. 
The only con to the AR-15 are the laws; some states, but more significantly, cities, have weird regulations or outright bans on ARs. 
I'd recommend looking up these laws in your area to determine the restrictions, if any, to avoid paying fines or facing other consequences.
.22 Rifle 
This may not be what would be expected to defend oneself, but there is a reason why I chose this. 
.22s can be fired very quickly, shooting up to 10 rounds in under 3 seconds. Ten rounds of .22 cartridges will put down just about anything, that's for sure. 
The best part about the .22 rifle is the ammo, it's found in practically every gun store, and it's super affordable. This means stockpiling .22 ammo can be done quickly without breaking the bank. 
They're also great for novices who may just be getting into firearms, but don't let this give you the idea that it's unworthy of purchasing. 
.22s should be possessed even if you have more powerful weapons such as the 30-30 or AR-15. The .22 is exceptionally lightweight and doesn't kick back as much as most other rifles, either. 
Best Shotguns
Mossberg 590A1
If you're looking for a concrete pump-action shotgun, it doesn't get much better than the Mossberg 590A1. 
This type is commonly issued to our Military, so to say it should fit the ruggedness standards is an understatement. 
The design is super unique, bringing a very tactical look, which isn't always common. 
It also features a heavy barrel, which helps keep the bullets from being inaccurate. 
Unsurprisingly, it has sight beats, which work as expected. The stock features a 6-point tactical adjustable stock too, which is very rare. 
This shotgun is great for the newcomers and veterans; plus, it's certainly a pleasant sight to the eye. 
Winchester 1300
This is a favorite among many hunters due to its quick pump time, making it great for hunting doves, ducks, and more. 
The Winchester 1300 hasn't been produced in quite a while, but there are still plenty of them in circulation. The thing I love about this shotgun the most is how lightweight it is. 
Due to its lightweight, it makes for a perfect gun for toting around the property for hunting or self-defense from wildlife. 
The Winchester 1300 handles very well, and the action is more than slick enough.
While it may not be the prettiest shotgun out there, if you're looking for a firearm to lay by the bedside to protect you and your family, then the 1300 will work great. 
It will undoubtedly devastate any threat that is unfortunate enough to walk in front of the barrel. It's also an excellent firearm for novices, both young and old.
Remington 870 DM
This shotgun is one of the favorites of mine on the list, partially because it includes a 6-round box magazine, which is a rare find on many shotguns. 
It's a straightforward design, yet very tactical, making for a super rugged and reliable build. The sight is a single bead, which isn't a bad thing but should be noted. 
The pump action is said to be very smooth, and from what I've found, it rarely becomes clunky. 
It seems that it could potentially get hung up in briars or something similar, for example. 
Otherwise, this is an insanely good shotgun, especially for self-defense. It's super lightweight, reliable, and very rugged for all things.
Best Pistols
Glock-19
A pistol is one of the better self-defense choices, as they are the most portable type of weapon and can inflict severe damage.
Many people keep them by their bedside, loaded, and ready for any intruders. They're also decent at long range if you're steady enough.
One of the most commonly sought after pistols in the country is the Glock-19. It's inarguably the most reliable pistol currently available for the price. 
It's also very customizable, so you'll be able to find just about any add-on you'd like, such as flashlights, lasers, and more.
I rarely hear of cases of Glock-19s locking up, which is certainly not a scenario we want to happen when our life is in danger.
Most models can hold around 12-16 rounds, which is more than enough than any situation I'd hope will ever call for.
Colt 1911
If you're looking for an old-school pistol, the classic Colt 1911 is your best bet. It's perfect for self-defense, either if it is at the homestead or when you're out and about.
This pistol was used for nearly eight centuries in the military, so to say it's been put through tests is an understatement. 
The .45 is more than powerful enough to put down any threat quickly and proficiently. Plus, ammo will be very easy to find, as I've seen it in just about every shop I've visited. 
They're also proven to be extremely reliable, I'd say even more so than the Glock-19. There are tons of customization options for them, so making it unique from others can be done easily.
The colt-19 is a reliable pistol, and I mean that in a literal sense. It can be put through the devils' gates and back and still work like new.
Sig Sauer – P320
Our United States military is using this pistol as we speak. This alone should prove its effectiveness, but time will tell. 
I've looked at feedback, however, and found an overwhelming amount of support for this sidearm. 
I do not need another pistol for the time being, but the P320 may very well be on my bucket list. 
It's new to the field, but it still has a few customization options, although not quite at the level as the Glock-19 and Colt 1911. 
It also can use different grip modes, which is an aspect being sought after by gun owners. 
The only thing I'm concerned about is that, unlike the other two, the P320 hasn't been around as long, but so far, according to military and user reports, it's proven itself well.
Honorable Mention
Muzzleloader
I'm not going to mention any particular Muzzleloader as there are so many, but I think it's good for any homesteader to own one of these bad boys. 
I'll admit, they're not nearly as easily reloaded as the other weapons listed here, but they're still great for single-shot scenarios. 
They're powerhouses that result in a devastating impact; they're best used for short to medium ranges.
They can certainly be used for self-protection, but you better not miss the first time. Still, they're great for the Muzzleloader season; I couldn't see myself without one, that's for sure.
---
Frequently Asked Questions
What Licenses Do I Need?
This is entirely dependent upon the state you live in and which weapon you'd like to possess. Some states require a permit to open carry a pistol, while others do not.
In most cases, there is no need to worry about a permit for rifles, mostly if they never leave your property. 
This is also true for shotguns, but to know the facts, you'll need to contact your local city hall, as these laws can have very different requirements for you vs. others. Check here for details.
Which Gun Is Best For Beginners?
I've seen many newcomers but a brand new AR-15 as their first weapon. I do not recommend this, particularly if you do not have an experienced gun owner to teach you.
The best weapons within this list for novices are the .22, Glock-19, and Winchester 1300; all three are easy to use and still provide plenty of protection.
If you buy an AR-15, for example, you run the risk of injury, damage, or improper loading, to name a few. They may seem great, but it's not a good idea to get an AR as a first weapon.
How Can I Teach My Kids To Safely Shoot?
First and foremost, only teach them once you've gained enough shooting experience to understand the gun inside and out, including maintenance, reloading, accuracy, and positioning.
If you're inexperienced, you may run the risk of teaching your kid a wildly inaccurate and possibly even a dangerous way to shoot.
I'd also recommend buying a smaller cartridge size, such as the .22, or even perhaps a junior-sized rifle to get them started, and after they gain enough experience, move them up to adult size.
---
Verdict
If you've been searching for a self-defense weapon to protect you, your family, and your homestead, then any of these bad boys will work great. 
If you're new to firearms, it can be overwhelming determining which one is best, and in particular, which type – rifle, shotgun, or pistol. All of them will work great, but each has its purpose. 
Rifles are best used for long-range, pistols are best for medium to short-range, and shotguns, in most cases, are best for short-range only, unless buckshot is used. 
If I had to choose just one weapon, it'd be the AR-15, which can essentially be used for short, medium, and long-range; plus, the ammo is found everywhere.